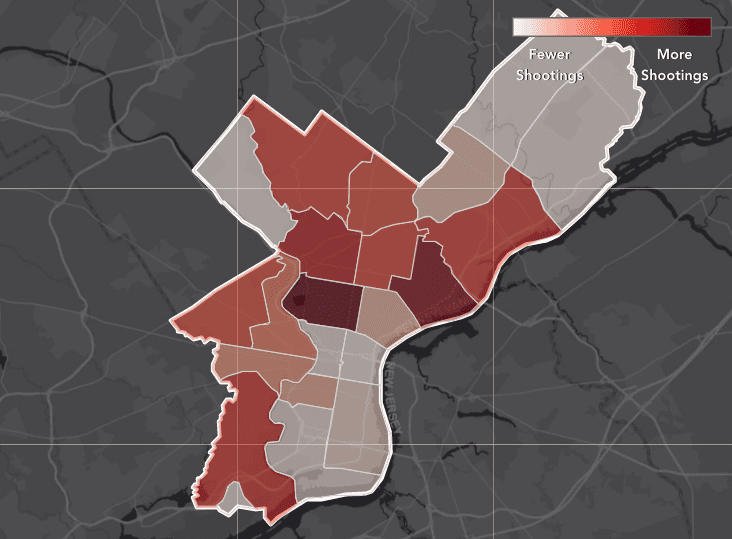 Latest Philadelphia data
• Police report 32 people shot in Philadelphia during the week ending Sunday, the lowest weekly total since June but still ahead of the previous five-year weekly average of 27. Seasonal declines are not unusual but other factors can't be ruled out. [Philadelphia Police]
• Police reported 440 year-to-date homicides in the city as on Sunday night, one more than double the number of victims reported on the same date in 2013. [Philadelphia Police]
In the headlines
• A 21-year-old man was shot to death next to the landmark Clothespin sculpture across from Philadelphia city hall last week. A 12-year-old boy was shot and killed in Frankford early Sunday. [NBC10/CBS3]
• One man was killed and two more were wounded Sunday night in southwest Philadelphia. News reports have now recorded 76 shooting incidents with three or move victims during 2020 in Philadelphia. [CBS3/Gun Violence Archive]
Watch, listen and learn
• A new documentary series led by a local violence prevention activist raises new voices telling the story of gun violence in Philadelphia. [YouTube/The Weight of Death/Philadelphia Sunday Sun]
Missing guns
• An investigation found hundreds of weapons missing from the Philadelphia Sheriff's Office gun inventory. [Philadelphia Office of the Controller]
Gun safety
• Here's what gun owners can do to keep everyone safer. [The Philadelphia Inquirer]
National perspective
• A Princeton professor observes that 2020 has been an extremely violent year across the US. [@patrick_sharkey]
• Even without the Senate, the Biden administration can direct agencies, set priorities, appoint leadership and more. [The Trace]
Media myth
• What drove juvenile homicides in the 1990s wasn't a new breed of violent teens. It was probably the greater availability of guns. [The Marshall Project]
Free conference
• The second annual Northwell Health Gun Violence Prevention Forum is free and open to the public. Register to attend online December 10. [Northwell.edu]
New research
• People who purchase a firearm during the pandemic are more likely to be suicidal than other firearm owners. [American Journal of Preventive Medicine]
Solution of the week
• We can spot social media posts that fuel youth violence using both AI and human intelligence. [Verizon]
Finding help in Philadelphia
• The Philly Gun Violence Resource List was compiled by WHYY's Billy Penn and has been released for public use by other media organizations or anyone else. [Google Docs]
• Safe gun storage prevents unintentional shootings and people in Philadelphia are invited to get a free gun lock. [Temple Safety Net]
Report for us!
• We are now seeking applicants to join the Credible Messenger Reporting Project and tell the story of gun violence and prevention in Philadelphia from the community perspective.
Community reporters will be paired with professional journalists to learn from each other, craft stories and get the news out where it can make a difference.
We hope to see some of the resulting reports shared by local news organizations, while other might be more effective on social media platforms and we hope to find professional journalists learning more about engaging new audiences. The possibilities are endless.
The Center will provide equal funding to both partners and cover related expenses, including stipends for story subjects from the community in some cases.
Visit our home page for more info and link to apply: IBGVR.org