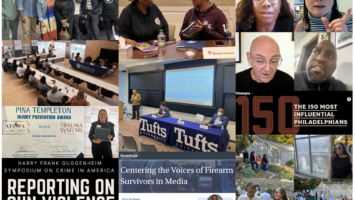 We have been following up on our incredible August at PCGVR with even more activities:
Last month, our team at the Philadelphia Center for Gun Violence Reporting presented our work in person at The Center for Media and Risk and SAFELab at the University of Pennsylvania, with Transforming Narratives of Gun Violence at the The Harvard Radcliffe Institute and for the new Institute for Storycraft and Information Gathering at Tufts University.
We also Zoomed into 27 US newsrooms with the Poynter Institute and delivered an update on our research at the Guggenheim Symposium on Crime In America. Our frontline staffers visited newsrooms, attended community events and were featured in special reports on FOX29 and NBC10 TV in Philadelphia.
Meanwhile, our director of research Dr. Jessica Beard was recognized with the Pina Templeton Injury Prevention Award by the American Trauma Society and the Pennsylvania Trauma Systems Foundation for her presentation on our work, and both Jessica and PCGVR founder Jim MacMillan named among Philadelphia Magazine's 150 Most Influential Philadelphians.
We also just landed our first grant from the William Penn Foundation and our newsroom Liaison Oronde McClain was awarded an Emerging Leader Fellowship with the Stoneleigh Foundation.
On November 15 we will hold our first Gun Violence Prevention Reporter Certification Workshop and we are making preliminary plans for a national conference here in Philadelphia next spring.
We are excited to contribute significantly to addressing Philadelphia's gun violence crisis while shaping journalism practices along the way. But we need your help. Read More